#1 Interesting Passengers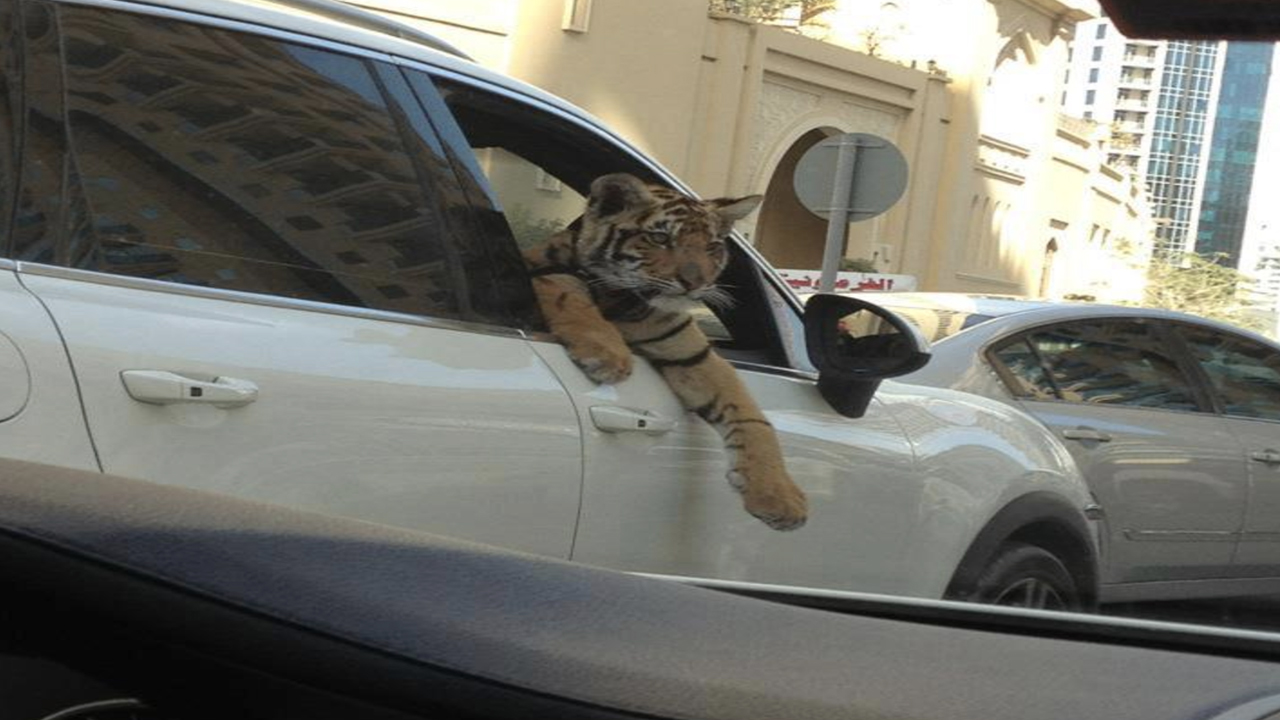 It is pretty normal to see a person driving around with their dog riding shotgun in the United States. It is actually pretty cute. In Dubai, however, they do things much differently than they do in the United States. The people there allow their pets to jump in the car and ride shotgun just like they do in the US, but it isn't dogs that they drive around with. It is not uncommon to pull up beside a car with a cheetah, a lion, or a tiger in the front seat. If this happened in most other countries, people might be frightened. The reason that people drive around with exotic animals is that it is considered a status symbol. Driving around with these animals is the equivalent of an ordinary person riding around with a movie star or a supermodel, only more dangerous. For some strange reason, the residents of Dubai who drive around with their exotic animals aren't usually afraid of being mauled and it doesn't even happen. These animals must be very well trained.
#2 Superstar Private Entertainment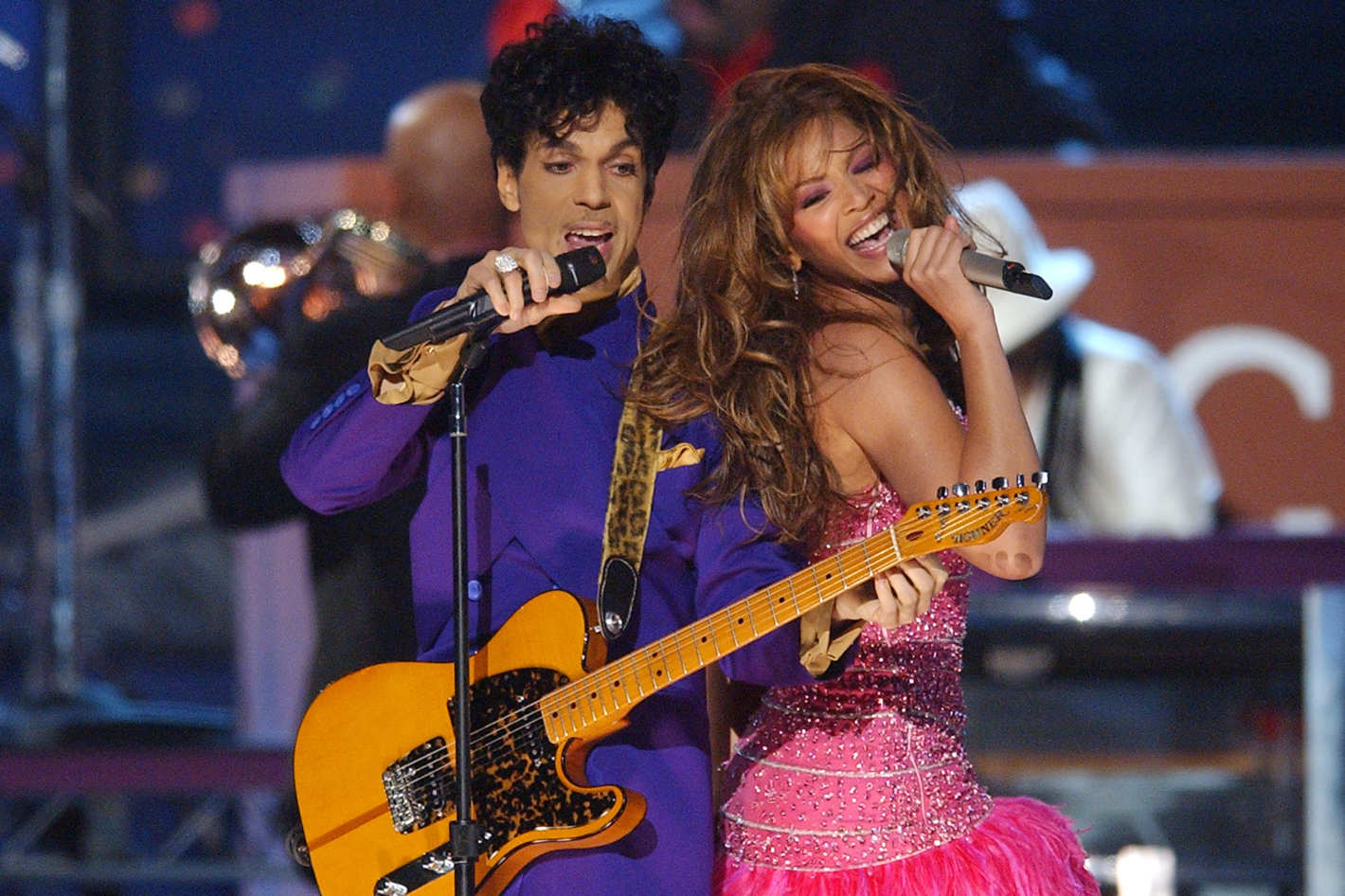 From a private concert starring Prince, rest his soul, to a $5 million performance by Madonna for one anonymous fan, the super rich people of Dubai really know how to entertain. In 2011, Sheikh Mansour trumped every other parent in the world when he flew in JayZ and Kanye West to perform at his niece's Sweet 16 party. Most kids in the United States get a new dress, a party at a restaurant or a hall, and a DJ. Typical kids in Dubai get cars and boats for their Sweet 16. The Sheikh in question dropped $6 million to have Kanye and JayZ perform at the party which puts most other parties in the world to shame.
#3 An Underwater Experience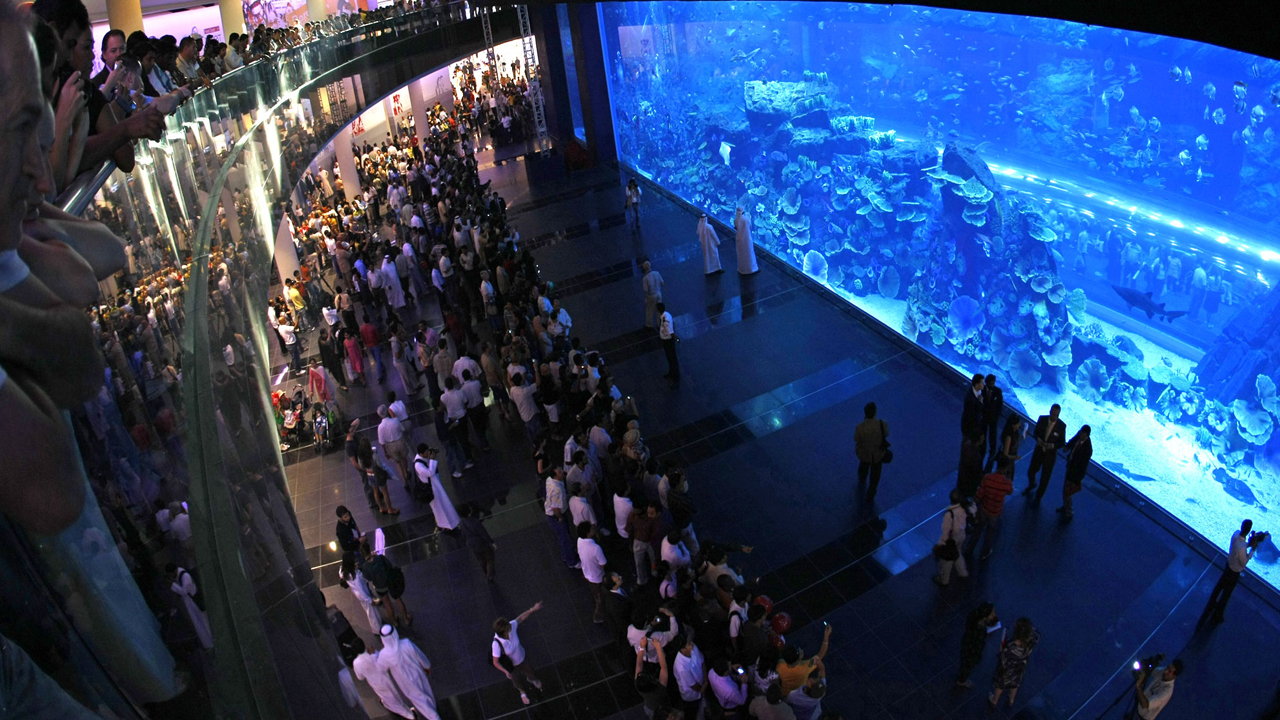 Inside the Dubai Mall is an aquarium with a massive window that is over 75 feet long and over 26 feet tall. This gives all visitors a stunning view of marine life. If you visit the mall and you don't want to spend your time shopping with your friends, you can get into the tank and you can actually swim with the sharks and the rays. If you want to enjoy the views of an aquarium in a more private setting, you can stay in one of the underwater suites at the Hotel Atlantis. To stay in the room, you would need to pay $8,200 per night. It is costly, but the views are amazing. Each suite has a floor to ceiling view into a huge aquarium. What could be more peaceful than sleeping around those blue lights with all of the fish?
#4 Gold ATM Machines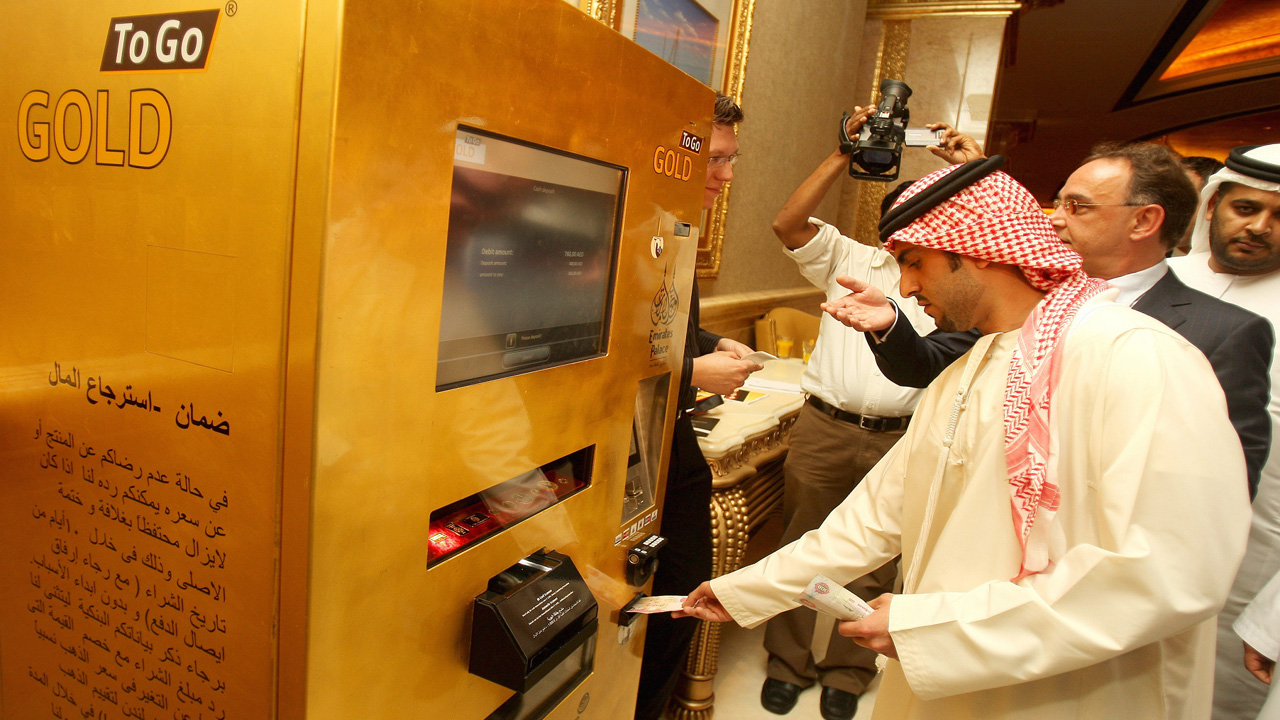 Have you ever gotten all dressed up for a night on the town only to find that you forgot to put on your gold jewelry? If you have, you would either have to go back home to get it or forget about wearing it for the night. If you live in Dubai, however, that wouldn't be a problem. All you would need to do is stop by the "Gold To Go" ATM and buy yourself some new gold jewelry. These crazy ATM dispense more than just jewelry. You can also get gold coins and gold bars. In Dubai, all of your gold needs are covered and you wouldn't even need to go home. These machines are only found in Dubai now, however, there are plans to put them in all major cities. These machines are so popular that they need to be refilled twice a week. If you are looking for these to come to America, you could be waiting a long time.
#5 A Supercar Paradise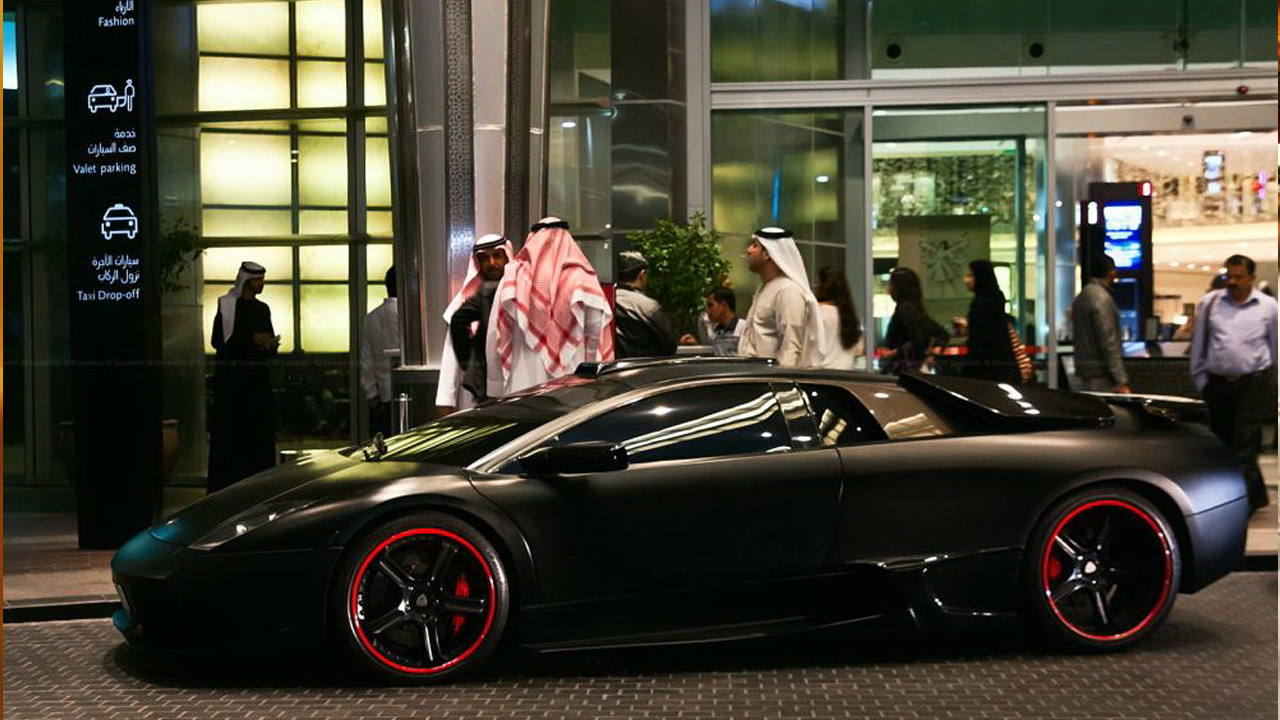 In Dubai, you will see cars like you have never seen anywhere in the world, and they are everywhere. Many of the cars on the streets of Dubai have been heavily modified and many are even gold plated. If order food to be delivered in the United States, you will usually see a typical car pull up in your driveway. In some cases, the car is old and beat up as the delivery drivers use their own vehicles and they don't really make much money. If you order takeout in Dubai, there will be a fleet of Ferraris and Jaguars ready to deliver your food in 30 minutes or less. Even the police in Dubai drive around in style. They drive a variety of vehicles including Mustangs, Camaros, Lamborghinis, and Ferraris. If you plan to run from the police, you should think twice. There are certain officers who drive a 1,000 horsepower Bugatti Veyron which would catch you in seconds. If you are planning to walk down the streets of Dubai, it will look more like a car show than a typical city.
#6 The Largest Manmade Islands In the World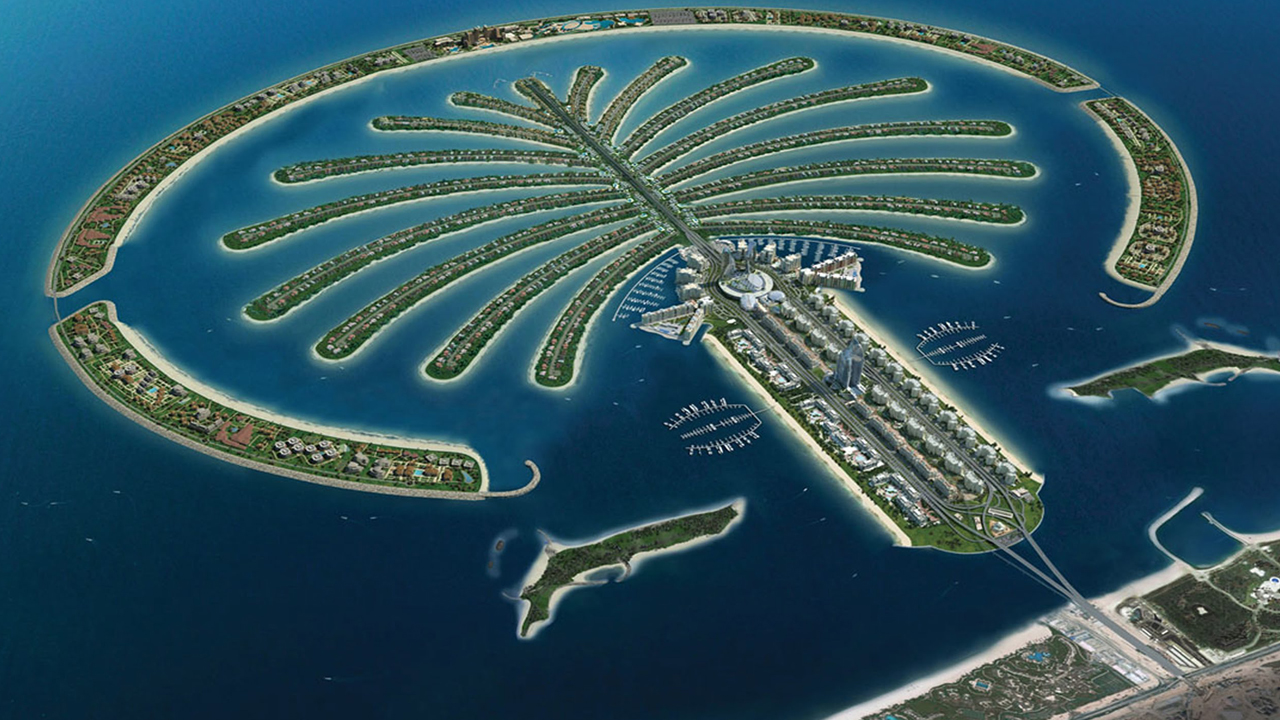 If you are flying to Dubai, make sure that you have a window seat. If you do, you will be able to see some of the most interesting and amazing features in the water below. Just off the shore of Dubai are many small islands that are formed into different shapes. There are some islands that look like palm trees, some look like the Earth, and currently, there is an island formation being constructed to look like the Milky Way. In total, these islands add hundreds of miles of coastline and beachfront property to Dubai. These islands may be beautiful, however, there is one problem. Because these islands were built out of sand, there is always a treat that they will disappear due to erosion and storms. Regardless of the danger, people are still flocking to these islands to live in one of the 4,000 villas and the 5,000 shoreline homes on these islands.
#7 Indoor Ski Resorts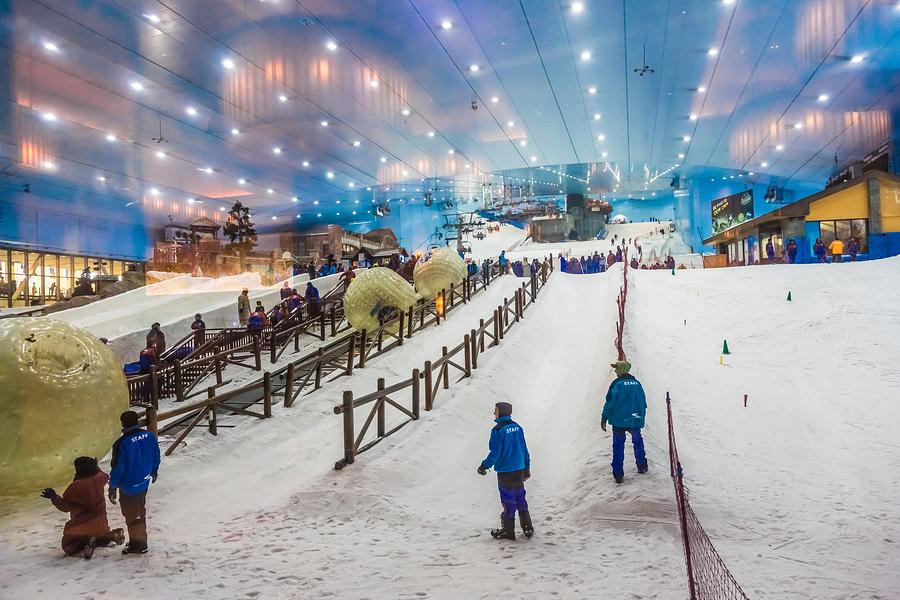 If you live in most places around the world, you can visit a ski resort and you would ski outdoors. In Dubai, things are quite different. Since the Middle-East is so hot and dry, the ski resorts have to be built indoors. If you visit the Mall of Emirates in Dubai, you can go skiing. There might be indoor ski slopes in a few places around the world, but Dubai has a complete ski resort all located indoors. In Dubai's indoor resort, you will find several slopes, toboggan hills, ski lifts, ice caves, and climbing towers. There are even penguins walking around the resort to make the whole experience even more amazing. The resort is located in a 22,000 square-foot facility where they keep the temperature at -4 degrees. When you are skiing in the resort, it is easy to forget that you are in the middle of a giant desert.
#8 High Rise Tennis Courts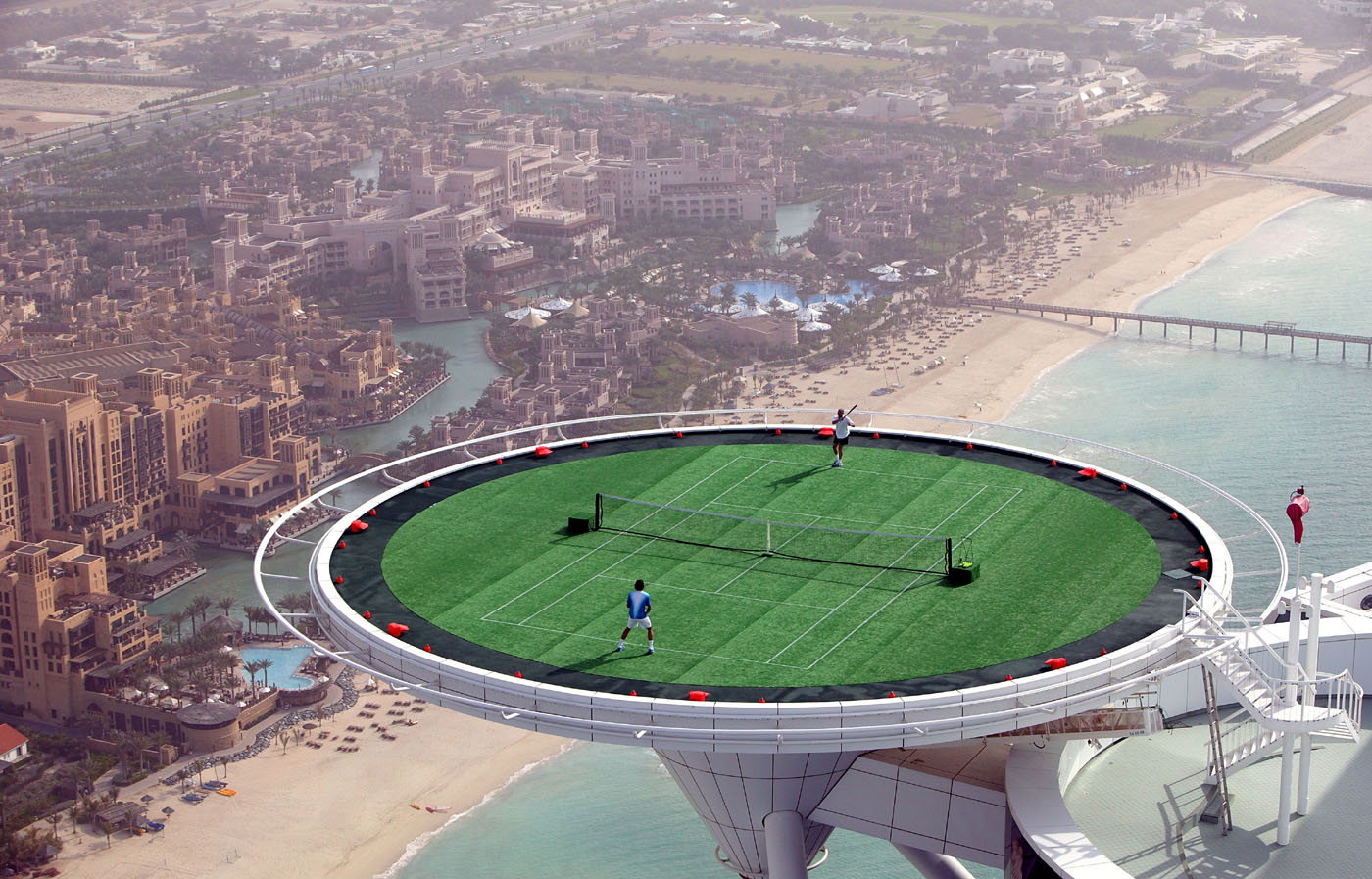 #9 The Tallest Building in the World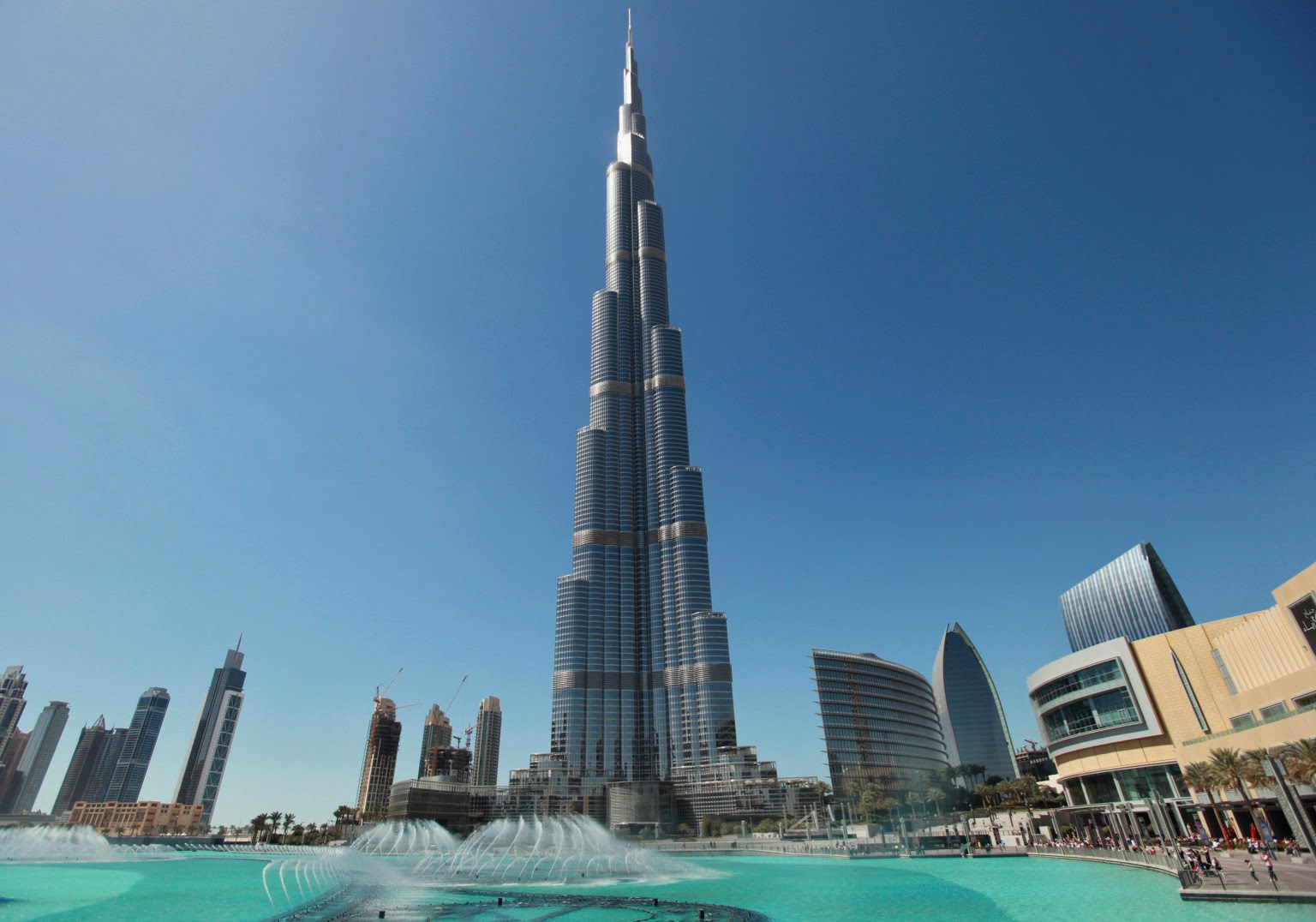 The Burj Khalifa in Dubai is an amazing piece of architecture and it is currently the tallest building in the world, standing at 2,717 feet tall. It is over 600 feet taller than the next tallest structure in the world.
The main purpose of this amazing building is to attract tourists and commercial interest from all around the world. There are 163 floors in the building, complete with nightclubs, swimming pools, and it is also the location of the Armani Hotel. There are also corporate offices and private residences in the building. Of all the amazing things located in Dubai, this building is one that will certainly get your attention.
#10 Temperature Controlled Indoor City
This is one of the most outrageous things you'll only see in Dubai. This city is home to the tallest building in the world and manmade islands and now they are set to build the first temperature controlled indoor city in the world. The city's official names is The Mall of the World and it is going to be the largest shopping and entertainment center on Earth. The structure will be 48 million square feet and it will include a covered amusement park, hotels, and apartment complexes, All of the buildings will be connected by air-conditioned walkways and close to 5 miles of covered temperature controlled streets. When the mall is completed, the mall will be large enough for millions of visitors. The best part is that you can enjoy Dubai without sweating in the city's 100-degree heat.
#11 Golden Toilets and Money Toilet Paper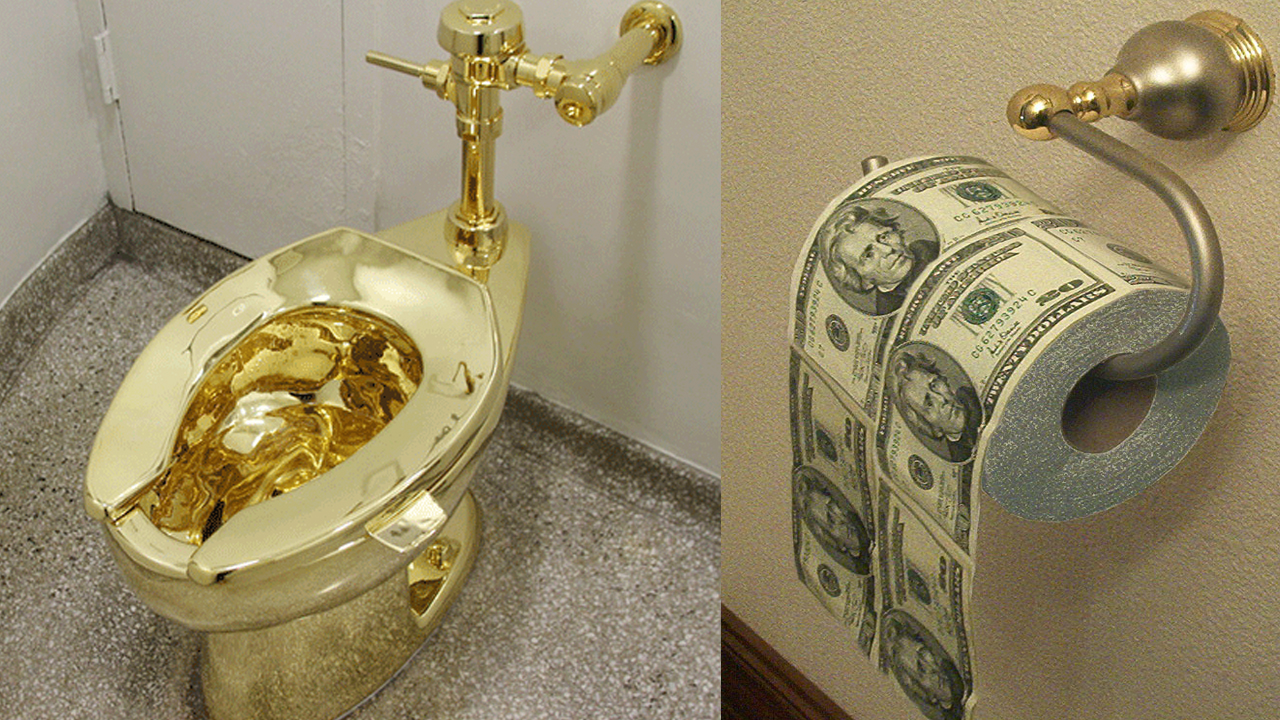 Everything in Dubai shimmers in gold. This includes their toilets. It is not uncommon to walk into a home, a restaurant, or a nightclub in Dubai and see a gold plated toilet. These toilets are so amazing that Donald Trump would be jealous. What would a gold plated toilet be without toilet paper made out of $20 bills? The toilet paper isn't actually made out of $20 bills, as the bills are fake. It is still impressive though.